Alto's Adventure is, without a doubt, one of the greatest snowboarding game in mobile devices. Not only because its gorgeous graphics with incredible music, the gameplay was made to still be challenging enough, even in the slightest time you had to play with.
However, the developer of Ski Safari, Sleepy Z Studios (before, they were with Defiant Dev), doesn't seem to create their next game as a challenge. But rather, as a fun game to add moment of excitement to all players. Hence, Ski Safari 2 was released last August, and it's already a #1 Paid App in 11 countries.
Ski Safari 2: The Premise
Ski Safari 2 in a glance, looks very similar with its predecessor. This is done deliberately by Sleepy Z Studios, because they want to show you all, that even with the same gameplay and graphics, you will still feel the large room to grow with.
Ski Safari 2 is still telling a story about Sven, a ski player that's being chased by avalanche and always started while he still deep in his sleep. In addition to Sven, Ski Safari 2 introduces a new character joining Sven. Sven's sister, Evana borrowing all Sven's stuff (they have an agreement not to mention this fact), and being chased also by the avalanche.
You will be accompanied by all ice age animals that's so adorable, including penguins, yetis, and sometime a frozen mammoth. The trailer below will show you the fun that you will meet once you play the game.
There are also two new worlds beside the old snow level. There is a prehistoric level with dinosaurs, lava, and stone houses like the Rock Age. And the other one, is like a wild west level complete with desert theme, minecarts, and tornadoes to treat you with some ice cream.
These two new levels aren't just a simple reskin copy and paste. Well, in a glimpse, it certainly is a reskin version of the snow level. However, in each location, there are unique additions that give each level a different feeling and experience.
So for example, dinosaurs are unique in the pre-historic level, they also have unique abilities that none other animals have in this game. Another example is Mammoth that's frozen in snow level, are roaming wild and free in pre-historic level. That's only in pre-historic level. In wild west level, things working in a different way too. So although the gameplay feels the same in all levels, the experience works differently.
Ski Safari 2: The Gameplay
The gameplay is exactly the same with its previous predecessor, endless downhill ski runner, of course with some retouch to complete the game. You'll be running endlessly to get the highest score among your friends.
As for the control, tap to jump, tap and hold to do a backflip (feels familiar?). Not only that, now you can do swipe to do tricks. This swipe-to-trick works variously depending on what Sven/Evana currently ride in/with.
So, when you ride using the ski or snowboard, you will have two different tricks coming at you. These tricks will again be different when you ride on top of the penguins or yetis. Another different tricks coming up as you hop on the eagle or riding the snowmobiles.
Another new addition in Ski Safari 2 is the camera mode. There are two different camera modes. The first one is spreaded randomly inside the level, and once you get pass through this random camera mode, you will be getting extra score. The other one is available just under the pause button. When you press this button, you will be brought into the studio mode where you can arrange how you and your ride will pose.
There are also missions that you could accomplished while playing inside level. Once you've completed one mission, you will be getting a star. Get enough stars and you will be able to rank up and collect some rewards.
One thing that's completely out of the box for this genre is the new multiplayer mode. In this mode, you can play with up to 4 players in the same local wi-fi. Once you've started playing with others, you will be heading in the same level, and will be racing to do a mission before your friends finish it.
Things I Like
The first thing that I love from Ski Safari 2 is that Sleepy Z Studios doesn't actually change a lot for this second version. It's more like an updated version with tons of good things on it. The graphics were updated with 3D graphics, new levels are being introduced, a bit of new spice on the gameplay, and so on.
I also love especially the multiplayer mode. In this multiplayer mode, I'm able to just do a casual racing with my friends. Although this multiplayer mode isn't as brutal as doing multiplayer in Space Team, it still gives some fun minutes spent together.
Just like many endless runner had on their sleeves, Ski Safari 2 also comes up with shop. In this shop, you can actually purchase and change the way Sven or Evana looks. You can even change their ride, skis, snowboards, and snowmobiles.
Of course, on top of this shop, the ability to take a picture while you're snowboarding is the most satisfying things when you just bought a new item from the store.
Conclusion
Although gameplay wise, Ski Safari 2 doesn't have much improvement from its predecessor, it certainly appeals in a lot of different way. While keeping the fun gameplay as it is, Ski Safari 2 adds a lot of thing necessary to make an already fun game before, a more fun game as it is. So if you need a game that will keep you to have some fun in a quite long time, please consider Ski Safari 2 as one of your options.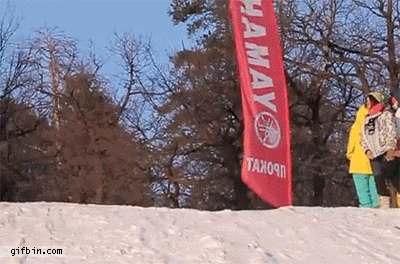 About Sleepy Z Studios
Sleepy Z Studios is Brendan and Shawn. Long before Sleepy Z Studios was born, Brendan and Shawn were working with Defiant Dev on other projects. When these Brisbane duo decided to create the first Ski Safari, Brendan was heading overseas at that time, that's why they decided to ask Defiant to publish their first Ski Safari game.
Now after Ski Safari became a huge success, Brendan and Shawn decided that Sleepy Z Studios has to be born and self publish. Thus, Ski Safari 2 is their first ever game that published by their own. To check out Sleepy Z Studios, please head out to their website (still under construction), twitter, and facebook
On the top of it, I would like to send my deepest gratitude to Brendan and Sleepy Z Studios for providing me Ski Safari 2 for my honest review.